&nbsp COLORADO &nbsp February, 1999
Click on any image to enlarge.
A Winter Vacation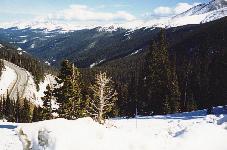 &nbsp
Berthoud Pass
We don't ski, but had heard that there were other fun things to do in the beautiful snow covered mountains of Colorado. Friends Kay and Lyle had heard this, also, and we all thought going there would be a neat vacation. Kay did some calling and found a rental condo in Winter Park that sounded pretty good. We bought airline tickets, packed our bags with warm clothes, and were on our way.
When we got off the plane in Denver it was a beautiful warm day. There was no snow anywhere. We didn't even need our coats. This wasn't exactly what we had in mind. We rented a car, a Ford Windstar, and drove eighty miles to Winter Park. Fortunately, as we started gaining altitude from Denver there was snow.



| | |
| --- | --- |
| At the Denver airport | Our home for four days and nights |
Our condo in Hideaway Village was on the west side of the Rocky Mountains at 9100 feet elevation. It was a two bedroom, two bath apartment with one of the bedrooms and bath in a loft. Ralph and I got the loft bedroom and bath after drawing straws for the privilege. This was a very scenic place and we were quite happy with it.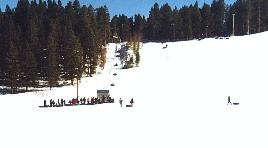 &nbsp
Tubing Hill
We then went snow tubing. Instead of sleds, big innertubes with two hand-holds are used to go down the hill. An attached rope is used to pull the tubes over to a lift at the bottom of the hill. At the same time that someone hooks your innertube to the lift, you plop down on your belly and away you go. At the top your tube automatically detaches and you're left to grab the tube and scramble out of the way of the person behind you doing the exact same thing. We went tubing down the hill and up the lift several times. It was great fun!!
The next day, Friday, we had a ten o'clock Snowcat appointment at the Winter Park Resort Ski area. The Snowcat held twelve people and took us to the top of the ski area at 10,800 feet. The scenery was great but the most impressive thing to us was seeing so many skiers, (some were small children) on the many different ski runs. There are twenty-one ski lifts and on a busy weekend, 17,000 to 18,000 skiers are here.
| | | |
| --- | --- | --- |
| Snowcat | Top of ski lift, 10,800 ft. | A beautiful new snow |
Saturday, we woke up to about a two inch beautiful new snowfall. The evergreens were laden with it making the scenery gorgeous. One of the highlights of this trip was the long walk we took down a forest road nearby in the Arapaho Mountains. We were in awe of the beauty.
After much deliberation about the price, we decided to go dog-sledding for $140. We were wrapped in a cover and tucked in on the sled. Eight dogs were hooked to the front and immediately started pawing at the ground, anxious to take off. Ben was our "musher". This was a five and one-half mile ride through the woods that lasted an hour. It was such a unique experience. We all agreed that we were so glad that we did it.
| | | |
| --- | --- | --- |
| We decided to do it | Bundled up and tucked in | Ready to go |
| | |
| --- | --- |
| The anxious sled dogs | A neat experience |
As if this wasn't enough excitement for one day, we had reservations for a sleigh ride, "Dashing Through the Snow", to dinner in the woods that evening. This was a memory maker. There were three sleighs, each with five seats, four people to a seat. The sleigh we were on broke down so they squeezed us in on the second one and Kay and Lyle on the third one. The sleigh we were on got stuck in the snow and the poor horses almost fell getting us out. We were on the front seat and the beautiful ride through the woods with a full moon and starry sky was like being in a perfect picture.
| | |
| --- | --- |
| Ready for a sleigh ride | Our sleigh before it broke down |
Kay and Lyle weren't so lucky. Their sleigh stayed stuck in the snow and they had to walk to the dinner cabin and it was cold. I know their feet were cold, mine were and I rode. The dinner was good and we were entertained by a singer with a guitar.
Since they were cheated out of the sleigh ride, the owner of the "Dashing Thru the Snow" told Kay and Lyle she would give them a private sleigh ride for free the next day if they would come back at 1:00 and they could bring us with them. That is what we did on Sunday. The owner and her children came straight from church still dressed up. She waded around in the snow, hitched up the horses, drove the sleigh herself and told us a little about herself and her family.
Her husband has a debilitating disease and can't help as much as he use to. They have six children, three boys and three girls who are home-schooled. The two oldest girls, about thirteen and fifteen help serve the dinner in the cabin. Even though the mother had traveled and studied in Europe, had a business in California, and other successful things, her dream now is to live like a pioneer as much as possible. We were impressed with all that this attractive lady does in running her own business.
This was a super vacation doing things we don't normally do and we hated to leave.