&nbsp Grand Canyon Hikes, &nbsp 1991, 1993, 1995
Click on any image to enlarge.
&nbsp Grand Canyon, &nbsp March 1991 &nbsp

Dave's Christmas present to us was reservations for two nights at Phantom Ranch at the bottom of Grand Canyon. This was like a dream come true so we started getting ourselves in shape for this once-in-a-lifetime adventure. The day finally came. After spending one night at Kachina Lodge on the rim and a frightening look down at that 4600 feet deep canyon, it was time to go. My stomach did terrible flip-flops on the shuttle trip to the trail head. It was exciting but scary.



| | |
| --- | --- |
| It snowed on the rim. | Ralph and I on the trail. |
It was warmer after we got farther down in the canyon. The trail became first muddy, then dry instead of snowy. This made for easier hiking but it was slow going because we kept having to stop and drink in the beauty of our surroundings.
| | |
| --- | --- |
| The views were fantastic. | Not much privacy. |
We finally arrived at Phantom Ranch, an oasis at the bottom of Grand Canyon. Dave was able to get reservations in one of the eight stone cabins that were built in 1923. The other accomodations were for ten men in a dormitory, and ten women in another. An enjoyable dinner of beef stew, salad, cornbread, and cake was served family style to forty-four of us at five tables.
| | |
| --- | --- |
| Phantom Ranch. The green trees are cottonwoods. | Our cabin for two nights has a sink, toilet, and towels for the shower in another building. |
| | |
| --- | --- |
| Inside the main lodge and dining room. | Menu and information board. |
We did some exploring but since our legs were tired and we still had to climb out, we didn't go far. What we did see just made us want to see more. We were in awe!
We hated to leave this beautiful place but it was time to go. We hiked out on the Bright Angel trail which is ten miles long, three miles farther than the Kaibab trail but a little more gradual. There are many beautiful sights on this trail, also. In spite of being apprehensive about the long uphill climb we didn't have any trouble and felt a wonderful sense of accomplishment when we got to the top. It was hard to keep from telling the people standing there (bragging, really) what we had just done.
Just as we thought the trip couldn't be any better, Dave presented us each with a Phantom Ranch coffee cup that he had bought for us down at Phantom Ranch.

Grand Canyon, &nbsp March, 1993
Since our last trip was such a super wonderful experience, we wanted to go again and see more of the canyon. Dave said that the only way to do that would be to backpack down and camp for a few days. I said "Oh, I could never do that" and I honestly didn't think I could. However, with his encouragement and help getting fitted with a backpack, that is exactly what we did. We spent six glorious days in the bottom of Grand Canyon. Ralph was 68 years old and carried a pack of 32 pounds. I was 67 years old and carried a pack of 26 pounds.
| | | |
| --- | --- | --- |
| It wasn't as hard as I thought. | What a view!!! | Camped here. |
Our first campground was Bright Angel beside Bright Angel Creek near Phantom Ranch. We were pretty disorganized and laughed at each other trying to find things we needed and knew we had packed. Finally tents got put up successfully and other things taken care of. The restroom was a short distance down the path and we were amazed that there were accomodations for the handicap.
This is such a beautiful peaceful place. After dark the stars were dazzling, as good as we've seen them, and then the moon rose making its appearance high on the canyon walls. It was an eerie, pretty sight.
We were packed and out early the next day in anticipation of hiking the narrows of Bright Angel gorge called "the box" on the map. The trail follows the creek as it twists through a narrow canyon with high walls and is very scenic. When there isn't room for a trail on one side there is a bridge crossing the creek to the other side. We discovered while crossing one of the bridges that the noise our hiking sticks made on the bridge reverberated off the canyon walls. An airplane flying over the canyon made a lot of noise bouncing off the walls, too.
| | | | |
| --- | --- | --- | --- |
| A bridge crossing. | The Narrows. | Cottonwood. | North Rim at top. |
We stayed two nights at Cottonwood Campground and took a leisurely day hike to Roaring Springs where we could see the North Rim of the Grand Canyon. On the way back to Bright Angel Campground we took a side trip to see beautiful Ribbon Falls.
| | | |
| --- | --- | --- |
| Ribbon Falls. | Devil's Corkscrew. | Plateau Point. |
It's ten miles out of the canyon on the Bright Angel trail, but to savor the trip we took our time by camping half way up at Indian Gardens campground with a side trip to Plateau Point. We enjoyed our backpacking trip immensely and are grateful to Dave for putting it together for us. He was such a joy to be with on this trip.


Grand Canyon, &nbsp October 1995
We met Dave at the north rim of Grand Canyon and stayed two nights in one of the cabins there. He had just completed a rim-to-rim-to-rim hike with some of his co-workers and still managed to hike down to Roaring Springs with us, a 4.7 miles one-way and 3800 feet descent. We were curious as to why a helicopter was circling over an area about half-way down since sightseeing over this area is no longer allowed. A hiker coming up the trail told us it was a search and rescue team checking out a report that a hiker had fallen over the edge on the trail. No one was found.
In making this hike, we now had hiked the entire Kaibab Trail across the Grand Canyon.
| | | |
| --- | --- | --- |
| Helicopter circled this area. | Narrow trail. | Roaring Springs. |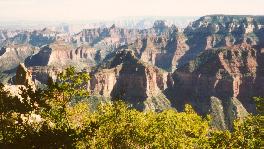 North rim of Grand Canyon.